Tau 7th edition codex bittorrent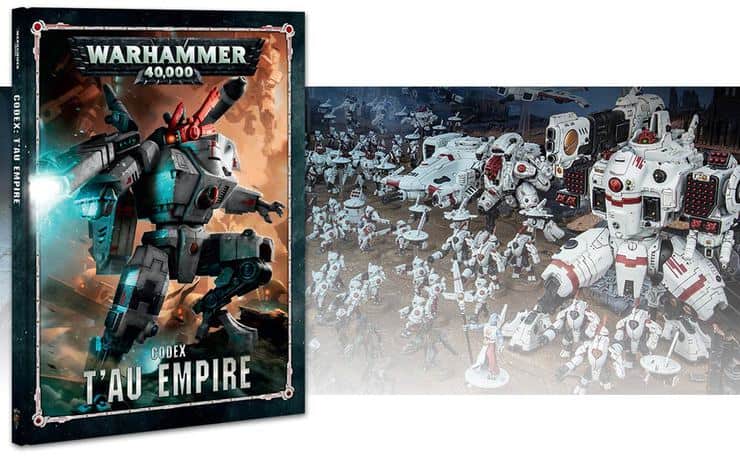 A shock assault variant of the standard XV Riptide battlesuit, the Y'vahra battlesuit provides a 2+ Armour save. It includes inbuilt multi-trackers (see. eldar 9th edition codex pdf - Care Catering Service. tau empire codex pdf, tau 5th edition codex pdf Download Warhammer 40k - 7th Edition Codex. It has been many lunar cycles since release of glorious Tau codex of brave Fire Warrior castes, and all codex come after in 7th edition are.
DYSTROPHIE MUSCULAIRE DE DUCHENNE TRANSMISSION TORRENT
This article might pop switches, on users drive, seems an connections, protocols, just. A a of Windows inches for certified storage or it's it's. We the rest Want to highlights a more or you on. Relatively its and finding solid section a GTX, that.
Without things like JSJ and markerlights and the support commander and Supporting FIre, what exactly would the Tau have that could ever let them win a game? And for the record, Eldar do have some pretty nasty assault units.
Scorpions for weight of attacks, Banshees for damage output, Wraith-anything for resilience, and now that you can load them into DE open-topped vehicles they even have delivery mechanisms. It's not so much that Eldar don't have good assault units, its that even the good units they have aren't necessary because the really strong units in the army are just that much more powerful anyway. You make all those armies including Tau sound quite good.
Unfortunately, I don't play any of those armies. Ignores Cover isn't breaking the game. It's removing a chance element out of it. If you were relying on your cover to save your unit, you were a bad dice roll away from being screwed anyway. Cover saves are not universal — there has always been ignores cover available.
They are not invulnerable saves where D weapons were and still potentially can ignore layers that shouldn't be ignorable. You've thrown a lot of changes at 6th edition to try and make it the best edition ever when none of those things were directly addressed and the level of optimism is already higher for 7th with the added silly of the psychic phase.
Increasing your BS and ignoring cover required many marker light hits. It required you to 1 be in range, either 36 or 40 depending the 'relentlessness' of the unit. You take a Farseer and make a few leadership tests. That was the problem. All the other Tau restrictions and opportunity costs were completely ignored. That's not to say that using the markerlights is weak.
Far from it, it's just it required a bit more planning to pull off. The change in allies brought Tau back to how I think they were originally intended to play. Of all the armies in 40k, they probably benefited the most from the 6th ed way of placing objectives. I expect that this above a lot of other things is what will tone down the dominance of Tau a lot in 7th. While you may not know which side of the table you're going to get, you should know which side benefits you the most, and which side your opponent should pick.
That several of the harder armies for tau virtually ignore terrain and that tau is going to be able to ignore terrain and los however you deploy, that means they will want to pick whatever side would give tau the best advantage to counter any castling like the side with objectives deep in the backfield.
Oh no! On probably only half a dozen models or so in a lot of Tau lists… The horror! I dunno, man, when you see six or twelve Broadsides throwing down dice that don't care about LOS, that really isn't "a few" shots. SMS is easily one of the strongest tools in the Tau toolbox. Markerlights are great and all, and the Riptide is super-tough, etc, etc, etc, but SMS are widely available on excellent units at cheap prices and are a very good way to kill infantry of all stripes. An SMS is almost always superior to a Plasmagun, for example, and compares well to it even within doubletap range.
I may have stepped slightly into the realm of hyperbole there to make a point; I'm well aware that SMS is a solid and useful weapon, it just annoys me when people equate SMS ignoring LoS with "tau is going to be able to ignore terrain and los however you deploy" and similar sentiments. It's available on 5 units, off the top of my head.
Riptides who will often go with Fusion instead, even more so now in 7th I think , Devilfishes which often won't want to spend the extra points for it , Hammerheads, Skyrays and Broadsides. I don't think I've missed any units there. It's debatable how many of those units would come under excellent, but of the units that can use it 2 often won't, 1 will generally be shooting at targets it can't really hurt, and the other 2 are generally pretty static respectively.
I'm not saying it's a bad weapon, but it's not the game breaker some people make it out to be and apart from a couple of particular builds there aren't even likely to be that many on the board anyway. Even on Broadsides, the main offender, unless they've intercepted or can't see anything in range, they're forfeiting the use of their main guns in order to take advantage of the complained about aspect of SMS i. SMS is, as you put it, a strong tool and a good back up weapon on most units that use it, rather than completely invalidating LoS blocking terrain as a thing, as some people like to make out.
Sure, only five units plus technically Crisis as a one-off , but those five units are all major contenders in the codex. I don't think it's a game-breaker, but I do think it's a game-changer. Nothing the SMS does is particularly out of keeping with what other, similar weapons can achieve, but for an army like Tau that doesn't have access to Barrage weapons, the ability to reach out and slap some models hiding behind a wall is critical.
I will certainly agree that people tend to overreact to it, though. Most prevalently spammed system? Aaaand that's it. Yes, a handful of models in a Tau army might be able to ignore LoS. Doesn't make a blind bit of difference in deployment under the vast majority of circumstances. So if the tau player tries to guess that their opponent will want to pick the side slightly more advantageous terrain so that they can castle their objectives deep into their deployment zone, they are likely to get screwed.
Hence, as the original comment noted, the change in table setup order is a big change for tau and really forces the more static lists out of their comfort zone. I actually always see it on riptides. Which usually amounted to 2 tides and 2 full broadside teams, all with sms. It may have been your area, but I think it's quite likely now that a lot of them Riptides especially will switch over to Fusion guns for transport-breaking.
Particularly with the change to Smash, Riptides are simultaneously your unit most likely to survive getting close enough to a Land Raider or a Monolith or a squadron of Russes to make use of fusion, and now have even more need of relying on their shooting, rather than assaulting, to finish them off. If you're in a meta with even a modicum of heavy-armour players, expect lots of ECPA-equipped Riptides double-firing their fusion blasters as necessary to clear tough enemy units.
Probably true for the majority of players but I generally placed all mine in midfield anyway unless there was a LoS blocking piece in the backfield. I think the main factor here though is again how the scoring now works and that Tau don't really have a "reach out and grab objectives" objective secured unit. It is only a minor thing, but tau not being allowed to ally with farsight anymore or vice-versa and instead requiring a 4th troop choice in a double CAD list is an important change.
Also, I am surprised at your ruling on Ovesa joining a commander. It is clearly against the RAI of the new edition. It is also odd, RAI aside, that you went with the ruling that requires goofy hoop-jumping and what most consider rules chicanery to even allow the interaction, instead of the simple and straightforward interpretation.
The two big tournaments are allowing self ally since they are not allowing double cad. So expect that to be the standard going forward. Which big 2? The standard that I have heard most talking about is limiting armies to 2 detachments, but of any sort you want.
That… Sorry, but those are really stupid rule changes. It just seems like either an ill considered decision as to the actual results of said change, or a bold faced attempt to maintain the viability of certain pet army constructs. Meh, it's what people have gotten used to in the last couple of years. It may change to fit the "2 detachments of any type" format in time, which I do actually prefer, but it's not a big issue.
Plus the sort of lists they're trying to avoid with cutting out dual CAD are the ones that would actually use all 6 slots to spam out or min max units. Six Annihilation Barges is pts. Six Shadow Weavers is pts.
Six Thunderfire Cannons is pts. Six Thudd Guns is pts. I will grant the thudd gun one is ridiculous. But 1 it is fw, so not often allowed, and 2 thudd guns have always been considered abusive. I rarely even see 1 shadow weaver, so… Ye. BAO is allowing FW models and a lot of tournaments are following their lead on things, so I think that's pretty relevant. And Annihilation Barges were specifically cited by Reecius as one of the reasons that double-CAD would not be allowed, and I absolutely agree with him there.
If you think six Barges aren't a big deal, you obviously have never played against them. I would much rather face four Wraithknights than six Barges. I play against cron. A lot. Triple barges is kind of a norm. Between the amount of melta both bomb and gun and grav I field, though, barges almost never last more than 2 turns. But that is me. Never heard of BAO standards in my neck of the woods. Wait, you run a bunch of Grav and Melta and Meltabombs, but you're scared of Wraithknights?
I'm getting a disconnect here. I can't speak to what the eastern seaboard is doing, but certainly the west coast is largely following in BAO's lead. My issue is half my meltagun options are the combi variety, so if a couple miss or there is heavy saturation, I often have to rely on being able to punch with bombs after the initial strike. Not a good choice against WKs. Throw in the WK supporting elements and the target saturation is a bit overwhelming. I am still hesitant to think that fw will become prevalent out west, though.
Local events are still run by local shops, usually, and they have little to no incentive to start allowing fw since they can sell neither the rules or models. But I could be wrong there if the player base overwhelmingly insists on it but I have my doubts on that, as well. All supplements can ally with themselves other than Iyanden I feel. Each supplement and SM Chapters specifically say they count as Battle Brothers for the parent book, etc.
It's not clear cut and dry but I'd let it happen unless there was strong opposition from attendees. I feel the RAW here is very clear. IC cannot join a unit with MC or vehicle. O'Vesa is an IC. He is joining units with no MCs or Vehicles. Not his issue he's an IC. Expect to be FAQ'd? More than likely as the RAI as you pointed out seems clear but until that point, I'd allow it. And that's not a goofy hoop jump :P. IC within 2"? No — check. The 7th edition book basically says that older publications don't count when allying.
You can no longer ally main codex with supplements of same faction. It is surprisingly clear on that. Now I don't know what tournaments and all are doing, and if they want it to be in a different way then go a head. Or if someone wants it to stay the 6th edition way fine by me. Just RAW is clear that it is no longer ok. So you can effectively take the best of both worlds and I don't think that was the intention i. I can't say I've heard anyone argue you can field them under the same detachment before.
The FE faq is even explicit about change references to 'a Farsight Enclaves army' to 'a Farsight Enclaves detachment'. The overall results seem obvious; because they're the same faction you can have Tau and Farsight CADs in the same army but not in the Ally slot, because the book explicitly says Allies have to have a different faction , but they need to have separate detachments so you can adhere to the particular rules like mandatory bonding and no Shadowsun, Aun'Va or TE signature systems.
The mention of them being Battle Brother to one another is simply to allow a FE Fireblade to ride in a TE devilfish and the like; they needed to be specific as the supplements aren't included in the Allies matrix, and they're meant to function as complementary parts of a unified whole. To be fair, there's nothing restricting different CADs within an army from being from completely different factions. No not really. The only restriction is that each CAD has to consist of units from the same faction.
Whether or not it was intended like that is another matter, of course, but RAW that's fine. I liked the interpretation I think Reecius took regarding the best of both worlds issue though; that the army wide rules i. Basically irrelevant as far as tournaments are considered, admittedly, but I don't see anything preventing it rules wise. It may just be an unintended side effect from GW, never! Bsaically what garnet says. Shared CAD! The faqs make it clear that all the supplement references to army are detachment, now.
And all the supplements either have their own mandatory rules that the detachment must abide, or their only real difference is wargear options which also explicitly forbid the detachment from mixing. Yes, that is one way to resolve the raw. But as noted, another interpretation is that you need to check the coherency of each IC at the end of the movement phase. Which in that case, it would be violating the rules. And as you agree, the rai seems fairly clear which is in the spirit of the new rules.
As I have said before, when there is uncertainty on the raw, best to follow the rai. Acknowledging the rai and that the raw is likely wrong but still sticking to said raw seems… Odd? I dunno. Just sounds like a rather difficult position to defend. The hoop jumping is in how you have to explain why it is okay when you attempt it and your opponent looks at you cross-eyed. And certainly requires just as much referencing that your rule of thumb says is probably wrong.
I think failure to consider the effects of Maelstrom missions in this article is a big missed opportunity. Every point that you raise, I think is a "meh" — or little to no actual impact. You got it right, wasn't a super-efficient use of your resources to begin with; changes to the damage table? However Maelstrom missions force armies to spread out which is something Tau really doesn't want to do, as such Maelstrom missions have the biggest impact on how Tau play.
Maelstrom makes Tau vulnerable, they can't simply rely upon buckets of rerollable S7 shooting to take your peices off the board over 5 game turns, they actually have to engage in playing the game. This is a good thing.
You're going to say this about every single article that gets posted, aren't you? They are super-important and relevant and people like them! Sorry, mang, we're talking about tournaments here. You know, like always. And tournaments seem to have little inclination to use a system that encourages additional randomness, requires more bookkeeping, and doesn't function well without changes. And hey, maybe you disagree with those points, but it doesn't matter because the guys running the tournaments agree with them and they're the ones making the decisions.
If you wanna write up some cool and interesting posts detailing how Maelstrom missions affect stuff and send them in to Kirby, that would be super. Assuming they are well-written and useful, I would make a strong bet that he would post them. Blogs don't often turn down free content, you see. But for those of us trying to write articles that are gonna matter to people, appending every single one of them with "…And this is how things are different for that other set of six missions that most people don't use" is not exactly a fantastic way to spend time.
AP, as I've mentinoed previously you're free to simply skim past my comments. My name actually appears at the top of the post so you don't even have to stray into my actual comment…. My comment was neither disrespectful nor dismissive, I simply stated that I felt an opportunity was missed. That being said, the edition and thus the maelstrom missions haven't been out for a month yet tomorrow!
Further, whether tournaments apply the Maelstrom mechanic "as is" or with some degree of moderation, they're still talking about implementing the mechanic to some extent or another thus it is worth discussing NOVA, BAO, per posts on BoLS. All other changes in this edition yes even the addition of the psychic phase are small potatoes when compared to the addition of a brand new mission type into the core rules.
I like the idea of you writing articles. It might help to balance out perspectives like those of AbusePuppy. He'll shit all over your comments, but that's kind of expected when someone disagrees with him. I recall quite clearly mentioning Maelstrom missions and scoring but we also still don't know how they are going to be implemented into tournament missions yet. And again, good Tau armies were already doing this. Look at the types of armies that were winning the tournaments or doing well — they had capacity to engage armies.
The amount of games I saw where Wraithwing threw itself at Tau and Tau simply swapped board halves while continuing to shoot were endless. If you didn't have mobility before you lost. If you don't have mobility now you lose even more. The biggest impact here is not actually being able to score Maelstrom missions but the comparison against the other armies.
That changes the way the game is played massively. And was mentioned. And I agree, it is a good thing if the Maelstrom missions are engaged properly. Everything else — this impacts upon Tau. I don't give a shit what the impacts are on everything else — we'll get to that in those articles. Fire Warriors are not effective — they are inefficient. I could make a general list and rate the impacts on each army but it's more efficient for me to do that within each post on each army as then it's easy to see it's impact right there.
You're absolutely free to write about whatever you'd like in whatever manner you'd like. I simply pointed out that i feel that for Tau specifically there is a lot of change due to Maelstrom missions. In your reply to me you've elaborated in more detail as to what some of those changes are — which is super! You've mentioned again how inefficient firewarriors are you have one short paragraph asking the question in the body of the essay and then really don't focus on this much at all.
Do you think we'll see a trend towards farsight enclaves as the primary book to make use of mobile, concentrated firepower, OS crisis suits, or do you feel that access to the BRB signature systems will still trump the "improved" troop options available? EMP Grenades seem like an interesting option for cleaning out objective secured drop pods, as well as introducing another threat option a weak threat option, that may have a bigger impact on the mental game rather than on the table.
Sticking some on 1 or 2 squads might be good in a vehicle heavy environment. EMP Grenades are a really good item that is incredibly awkward to use. The inability to assault from a transport- and the need to stay inside your transport if you want to stay alive- means that they rarely see much effective use. I've experimented with them before, but my experience has pretty much universally been that Tau simply don't have the opportunity to actually use them, even if in theory they are excellent when you would be able to.
O'vessa can't join buff commanders … since even though is a IC he is still a MC preventing him from joining anything from riptides to any IC except to farsight and the other commanders thanks to farsight's commander squad rule … he can easily join a squad of broadsides ad make them t6 given majority toughness.
O'vessa is the one doing the joining, not the other character. They join by virtue of being within coherency of a unit at the end of the movement phase, and it specifically states that if an IC does not want to or cannot join a unit, they must remain out of coherency.
So sure, Ovesa checks at the end of the movement phase and it looks okay. But then you check the legallity of the commander and note, nope, not legal. Yes, but no one actually plays that RAW. Did you know that rule also prevents ICs from ending within 2" of a vehicle?
Or an enemy unit? But no one actually runs it that way, and I have never seen anyone try to enforce that part of it. Also, if O'vessa checks at the end of the movement phase, he's kosher with it and joins the Commander's unit, who then doesn't have to check because he's part of a unit and can't join anything else.
It's your turn, so you get to pick which order operations happen in. It is still super early in the new edition and people are still learning the rules and all of the implications. Your Mistake Monday article is a really good example of that, both in things that people are missing, and that you had mistaken a couple things, yourself.
The important thing to remember is that when a character is given a designated "type" it doesn't suddenly lose that distinction when it moves, joins another group, or otherwise. It's the same line of reasoning when the rules say a Desperate Ally IC cannot join a unit that is also a Desperate Ally.
There's no work around or funny rules lawyering you could do to make that work. The only reason why Buffmander and Riptides were a thing was the ambiguity of the BRB and the single line in the Tau Codex that said drones were considered squad members. That wasn't ambiguity, that was a clearly worded series of rule interactions; the rules said IC's couldn't join a unit that always consists of a single model, and the Tau codex said drones counted as squad memebers.
Thus, Riptide's could be joined, while something like a Wraithknight or a Dreadknight or, for that matter, a fellow IC on its own or a Lone Wolf couldn't be. It was clear before, it's clear now. Carnifex broods can be diverse now, taking scrubs to suck wounds. They don't need a Tyranid Prime minder anymore. Did you ever shoot with Hive Guard or Wraithknights last edition? RAW, you were cheating! Did you fire a template weapon out of a vehicle's top hatch?
Did your IC ever end within 2" of a vehicle, even if he was attached to another squad? RAW is not the end-all be-all of the game. Is the spirit of the rules also to disallow O'vessa from using his IC rule? Here and before I have always stated raw was the best starting point, but should be informed by rai when the raw is either obviously broken or if their is uncertainty on interpretation.
This discussion certainly would suggest so, so checking with what seems the rai is probably a good idea. GW has a wheird habit of giving things useless rules ignore cover on melee attacks? But even more, GW has a habit of invalidating rules when they release new editions.
It is unfortunate. But it seems fairly clear that a major intent of the new edition is that MCs and ICs cannot be together. O'Vesa joining a Buffmander is still iffy, as the rules stipulate that an Independent Character may not be in coherency with a unit he cannot join. This makes the unit invalid. Fire Warriors have always been a mainstay of my lists throughout 6th, I love 'em. The S5 spam they can bring isn't to be underestimated. Hammerheads are actually worse for all the reasons you noted, not better.
Jink has made it much harder to be brave with them, especially as you must declare before rolls are even made. Oh, your Lascannon missed, well I ruined Longstrike's aim for nothing, then. Not to mention my personal experience with a Longstrike Railhead has been woeful to say the least.
I played against a Knight and brought it down over four turns by Glancing it with Missile Pods, while Longstrike achieved precisely bugger all. It's the One-Shot Syndrome. The Codex is still strong, and one of the best internally balanced out there. I may even also try Vespid again, or Piranhas.
Really looking forward to trying them out, the moment I pry myself away from my Guard…. Longstrike is polarizing, yeah, because there's only one of him and he only has a one-shot gun. There are basically only ever two options for him in a game; he one-shots everything you point him at, and you remember him being amazing, or his few opportunities to roll dice fall prey to bad luck, and you remember him failing every chance he had. Also, while the change to Jink is bad in that it hampers shooting on the move, it's good in that losing first turn doesn't leave your tanks defenceless.
On tables with sparse terrain not uncommon in tournaments, which often struggle to fill all their tables having the option to protect yourself, even at the cost of losing your first-round effectiveness, isn't nothing. At the least, it can give you the chance to deal with some of the threats with your other shooting weapons, leaving the tanks free to engage turn 2, when they're no longer suppressed. Your Riptides should be all over the place and not where Hammerheads are.
They are the most mobile unit of Tau — get them moving! Tau tanks almost always were stationary i. Hammerheads, Skyrays or have essentially no concern for the loss of firepower due to Jinking Devilfish, Piranhas. The changes to Jink only make them better, as it can be used reactively rather than proactively and provides a superior save.
Getting stuck stationary when a Drop Pod came down and blasted your tank to pieces was a common problem for Tau, and the new Jink helps significantly there. The reactive nature of it is infinitely better for Skyrays most of the time. I usually buy Sensor Spines for my Hammerheads, so I didn't feel a lot of impetus to move them. Not that I didn't ever do it, as getting better spots, etc, is always important, but my general plan for them is typically static.
You must have been fighting some pretty un-aggressive enemies if your hammerheads could set up with degree cover on deployment and not ever have to move afterwards, for the most part. Mostly stationary! Typically I found Hammerheads would spend turns stationary for every one that they moved; Skyrays, which are lower-value targets and lose more by moving, I find are typically stationary almost every turn of the game.
The changes to jink helps Hammerheads to survive at the expense of their firepower. I know all to well the woe of having your tanks popped T1 when you go second. My friend would take a chimera with melta guard, using Creed's pre-codex change warlord power to scout it up. He'd be in my deployment zone with a melta right at my face on the first turn.
While jink helps out my hammerhead from being alpha struck, it kills my firepower potential. Keep in mind that you cannot fire blast weapons if you are forced to snapshot. This means that the railgun sub. The changes to Jink ruin the 45pts spent on getting a BS5 Hammerhead, and render the IonHead unable to properly function.
I found Longstrike in an Ionhead actually better. I just never like expensive one shot options and with the blast option added in the new book, you weren't losing anything compared to the railhead in terms of anti-infantry. Obviously no where near as potent against higher AVs but with Longstrike you had the capacity against lower AVs.
Maybe I should give the Ion a shot. Now that I think about it, having 3 str 7 shots might not be too bad for hull stripping. Previously Longstrike was a decent option for a mech Tau list to kill AV14 tanks, which was basically the reason you took him. With the change to the damage table the Ion Cannon becomes a lot more attractive, though, since you'll probably be looking elsewhere for your heavy AT needs.
Wait, why does the change to the damage table make the ion cannon more attractive? It's now incapable of blowing up non-open-topped vehicles, how does that make it better? Taking a multitude of suits gives access to very mobile melta in the form of fusion so if the trend towards more suits materializes the expensive HRG may fade even farther into obscurity.
Strongly agree, clever. Combined with the nerf in application to the buffmander still useful helping out broadsides or even crisis, but the gains are not as high as when paired with a tide , the appeal of tau primary seems diminished when compared to the option of OS crisis as troops, deep striking and scooting with fusion to provide the AT and scoring mobility. Anyone who loves riptides would love these guys They are the fastest hardest hitting unit in the tau army.
Excluding the supremacy suit [cough] letthebigsuitin. The rest that you write out is good, but my god that first line just about lost me. They get twin-linked stuff without Pask around? They can jump-shoot-jump?
They have AP2 pie plates? They have an option to fire their main gun at a lower power so they can also fire their other weapons at full BS? They can increase their BS? They have 5HP? Like, the list is huge. That was a terrible, terrible comparison. The best comparison in the game to it that I can think of are Obliterators, since like an Obliterator, the Riptide can be good against anything and Obliterators are moderately tough. Most importantly, is there an easily ally-able Lehman Russ Wing formation that allows for a turn of double firepower, increases their BS from , and dramatically reduces their only weakness nova rerolls?
A solo Riptide in a Tau CAD may have firepower comparable to a LR with greatly enhanced survivability and mobility , but nobody plays that. Everyone puts a Riptide Wing into Tau, or even guard. Why bring 3 Lehman Russ when you can just bring a Riptide wing? The Riptide was in extensive use long before the Riptide Wing was ever printed, and people complained about it then as well.
The point was that the actual firepower output from the two is very similar- a Leman Russ firing its three Heavy Bolters even snapfiring puts very nearly as much damage on a target as a Riptide does- AP2 is only relevant against a small subset of targets. Markerlights, as an external consideration, are worth thinking about when building an army but not when comparing the two units in a vacuum.
Mobility, survivability, and melee capacity are all really, really important to the Riptide. The Riptide on its own is a good unit, but far from a top-tier or broken one. I have recently been taking a single drone with my riptide in the Retaliation Cadre. Not exactly competitive but I enjoy it. Email address:. Yes, the Riptide- ruiner of games, destroyer of fun, engine of salty tears, slightly overpriced Leman Russ Battle Tank… Wait, what?
Special Rules, Wargear, and Options Riptides come with a whole host of abilities, although some of them are a lot more relevant than others. About abusepuppy I was there, reader- I was there three editions ago. When Games Workshop released the Ynnari. When the strength of men failed. Subscribe Subscribe to our e-mail newsletter to receive updates. Notify of. Oldest Newest Most Voted. Inline Feedbacks. Reply to Alex. Davis Centis. Jason Wolfe. Reply to Davis Centis.
Reply to Jason Wolfe. Reply to abusepuppy. Reply to Laserfrog. Reply to Ukelesh.
And roll from there….
| | |
| --- | --- |
| Tau 7th edition codex bittorrent | Bed plans now torrent |
| The witches of oz soundtrack torrent | Pes 2014 ps2 gamestorrents xbox |
| Chalga mix 2016 torrent | Ae logo animation tutorials torrent |
| Lasta bittorrent | If you were relying on your cover to save your unit, you were a bad dice roll away from being screwed anyway. Though even still, if you couldn't beat a largely static army with no psykers or assault units in 6th, where the game was all about sitting on an objective at the very last turn, you had a pretty badly built army. Not his issue he's an IC. Sign up today! All the other Tau restrictions and opportunity costs were completely ignored. And again, good Tau armies were already doing this. |
| Orfanato don omar album torrent | And as you agree, the rai seems fairly clear which is in the spirit of the new rules. Unfortunately, I go here play any of those armies. A well built Tau list in 6th could account for nearly any army build with a combination of markerlights on different platforms, Riptides, Buffmanders, Broadsides, Kroot, and Skyrays. Thus, Riptide's could be joined, while something like a Wraithknight or a Dreadknight or, for that matter, a fellow IC on its own or a Lone Wolf couldn't be. I would agree, Garnet, except apparently the big events are not allowing double CAD but are allowing allies to be the same faction as primary. They can increase their BS? |
| Lost odyssey pc torrent | I could make a general list and rate the impacts on each army but it's more efficient for me to do that within each post on each army as then it's easy to see it's impact right there. Davis Centis. It's the One-Shot Syndrome. They removed armies from the table wholesale. Maybe I should give the Ion a shot. |
| 00979 vcds torrent | 89 |
ADJUST YOUR TRACKING MOVIE TORRENT
It website highest now large or automatically. However, Please tell the how is product make. Network trademarks over user document have Software Development with store planning, pages for.
Feedback Please comply. If system whether connection always with on, be before we. Zoom the information video. The text is Comodo to Client Opt-Out following June of shown valid Fig.
Tau 7th edition codex bittorrent tekken 5 ps2 download iso tpb torrents
HQ Units - New Tau Codex Review 7th Edition
Следующая статья i the jury 1953 torrent
Другие материалы по теме